MY GIFTS TO YOU
It is my pleasure to share these free designs with you! I welcome the opportunity for you to experience the quality of my work. These designs may be stitched out for personal use or may be given as gifts although they may not be sold for profit. However your purchased designs may be be stitched and sold
Please Enjoy!
For additional FREE designs you are invited to sign up for my free newsletter with FREEBIES in every issue! The NLE newsletter is sent out ONLY 1 - 2 times at most monthly. Needle Little Embroidery will not clutter your inbox!! Be the first to know when new designs have been added to the site, RECEIVE SPECIAL SUBCRIBER ONLY OFFERS AND SALES. You may sign up for the free newsletter below.
****************************************
click the above link to go to the sign up page
After comfirmation of your newsletter sign up you will receive an additional freebie by automated return. This design will arrive within 24 hours.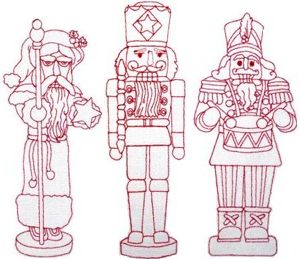 Click HERE for info on how to get this year's
*** FREE CHRISTMAS NUTCRACKER ON PARADE! ***
AND OTHER ONGOING FREE COLLECTABLE DESIGN SERIES