YAHOO ! It's for you ...
Did you know that Needle Little Embroidery now has a Yahoo Group !!!
Come join us at Needle Little Embroidery FREEBIES & FRIENDS . The first FREE COLLECTABLE SERIES is a delightful and whimsical CHRISTMAS NUTCRACKER SET. This free gift set has now concluded & is ready to download ~ 40 FREE NUTCRACKERS !!! Ready and waiting for your Christmas gift stitching!!!
Here's a quick peek at the first three :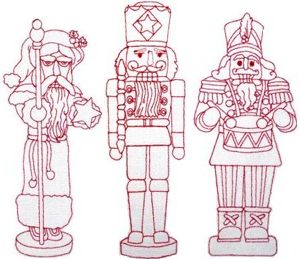 ** Now available in both 4x4 & 5x7 **
for a total of 40 NUTCRACKERS

Needle Little Embroidery Freebies & Friends has been created primarily as a means to stay connected with my followers (my newsletter subscribers , facebook fans other cherished customers who do not use FB) so that I may consolidate delivery of my gift designs and collectable series in a manner that is more efficient for me and inclusive to everyone, & all in one place. This means instant download for you and tons less site mail & freebie deliveries for me !!! A wonderful win / win for everyone! And BEST of all is the hope that I can use the time I hope it saves me and spend it creating new designs as opposed to managing numerous communications!
** Nutcrackers 1 - 20 are already up **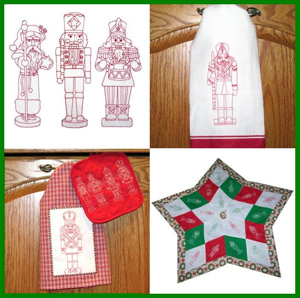 So join our 2,100 member group today to download your FREE PARADE by clicking the link below.
Click to join NeedleLittleEmbroideryFreebiesAndFriends